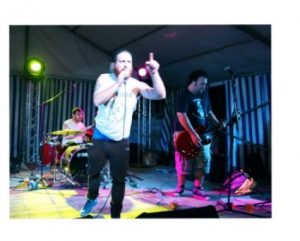 Radio Eustachio trasmette per la prima volta dai Fisherman Studio's
l'11a puntata di Ducalic Rock! In una domenica di fine settembre
con il tempo very crazy..questa è la scaletta proiettata:
1-BORIS THE SPRINKLER: Mega Anal
2-DIRECT HIT: Blood on Your Tongue
3-PINHEAD GUNPOWDER:Life During Wartime
4-FIDLAR:West Coast(feat.Henry Rollins)
5-THE GET UP KIDS:I'm a Loner Dottie, a Rebel
6-GUTTERMOUTH: My Town
7-The Lillingtons: Zodiac
8-FIDLAR: Awkard
9-PEARS: Ardous Angel
10-Guttermout : Skaters Anthem
11-JAWBREAKER: Boxcar
12-IRON CHIC: My Best Friens(is a Nihilist)
13-FIDLAR: No Waves
14-OLD MAN MARKLEY: Come Around Here
15-THE PONCHES – My Russian Way
+DIRECT HIT! carosello di chiusura con Infinite Pills & Infinite Alchols
DONT BE an IMPLUMUS!! BE DUCALIC, listen to RADIO EUSTACHIO!