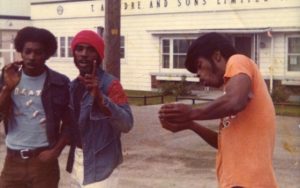 Du-Du-Ducalic Rock! back again dal basement di Veronikt, sabato pomeriggio sulle frequenze streammate di Radio Eustachio abbiamo trasmesso:
Death – Freakin' Out;
Blowfuse – Rippin' Out;
Gli Ignoranti – Turbo Ignorante;
Suicide Machines – New Girl;
Thee Loyal Wankers – Waste;
Bloodhoundgang – Uncool As Me;
Lightning Bolt – Birdy;
Into My Plastic Bones – Yeloow Parrot;
Rancid – The Brews;
Skiantos – Ehi Sbarbo;
MC5 – Kick Out The Jams;
Geto Boys – Six Feet Deep;
Dropkick Murphys – Skinhead On MBTA;
Adolescents – L.A. Girl;
Liquid Liquid – Optimo;
Magnetix – I Drink But My Guitar Doesn't;
Direct Hit! – Infinite Pills, Infinite Alcohols.
| | |
| --- | --- |
| | Ducalic Rock! |